VINCENT DE AZEVEDO
// Electro, Pop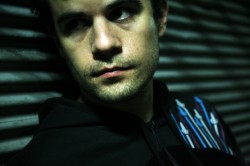 Découvrez VINCENT DE AZEVEDO en music //
Update Required
To play the media you will need to either update your browser to a recent version or update your
Flash plugin
.
He started learning piano at age 7.
He studied music / arrangement / analysis with Michel Meynaud (contemporary composer / teacher and conductor of the Nuremberg Philharmonic Orchestra …). Meanwhile, he learnt instruments like guitar, bass, drums, violin … and plays for various bands (jazz, Afro, song, reggae, electro-rock …) After receiving a Master of Law at the University Pantheon / Assas, he became in 2001, journalist for the webmagazine NOVIGA.COM. During that time, he did more than a hundred interviews of key actors in new technologies and the Internet.
> In 2002, he worked on his first commercials for Vodafone, Orange, NOKIA… as freelance composer & sound designer. Same year, he created INTERLOCK SOUND, one of the first agency dedicated to Sound and Music Design and specialized in new media and audio marketing strategies for brands.
> In 2004, he released his first record under the name of MOD X and founded the Ice & Spice Records label. In a few years, the label build up a strong reputation worldwide for quality eclectic label. At the same time, he became a live performer and DJ and performed in many clubs, festivals in various European capitals and throughout France (Athens, Mannheim, Milan, Thessalonica, Paris, Brussels, Budapest, Marseille, Berlin, Tours, Metz, Poitiers, Grenoble, Cannes …).
> In 2009, Ice & Spice Records came to an end and Vincent de Azevedo decided to start a brand new adventure through V-DOGG.
> In the past 10 years, he has composed music for over 200 online and offline advertising campaigns for many international brands such as Chanel, Dior, Ducati, Ferrari, Lexus, Nintendo…
> He also produced a big amount of tracks / Remixes / LP / EP / singles and albums for french and international artists such as Kid Loco, Jon Kennedy, MC Coppa, Nicole Graham, Julia Messenger, Again, Mod X, Modcop, Starlane, Just Banks, Paul Murphy, Lester Bilal, Solidaze, No Medicines…